Clip 'n Climb is perfect for the active child or adult
Featuring 32 climbing lines with challenges fit for everyone aged 4 years and over.
Our challenges also include the Vertical Drop Slide (Additional cost £2.50 each. subject to a minimum height restriction of 120cm) and climbing walls of varying difficulty.
We have dedicated time slots for parties on weekends which MUST be booked directly with the centre.
With the addition of our new party room we can now offer more party bookings over the weekends.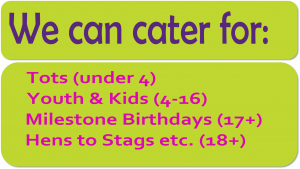 Prices start at £210.00 Up to 10 people (thereafter + £21 per person)
2 1/4 Hours Experience
1/2 Hour Harnessing and Safety Briefing
1 hour climbing inc. 5 mins de-harnessing
3/4 hour dedicated party table
1 x Free Vertical drop-slide token (1 Free for every 10 spaces booked)
E-vites (see below)
Party food with unlimited Juice/Water
Birthday guests can challenge themselves and each other to our many different climbs. When the climbing is over, the Party continues in one of our dedicated Party Rooms 
 (awaiting pic) Snowdon
Ben-Nevis
– where we can provide a range of hearty party food to keep them satisfied.
Just remember to bring your own birthday cake and leave a slice for us!
For more information please see Party Enquiry Information [v7]
SPECIAL OFFER
Book a Mid-Week Climb and Dine Package (Monday – Thursday term time only) and get FREE Vertical Drop Slide Tokens for ALL your Party Guests
Mid-week Party Slots are at a time to suit you and subject to availability
Booking
It can often be very difficult to reach us by telephone during weekends and school holidays, we can't complain as this means we're busy!
However, to make things easier if you're looking to organise a Climb & Dine Celebration Package with us simply e-mail the following details to hello.leeds@clipnclimb.co.uk
Booking Name

Phone Number

Name of Party Person/s

Age of Part Person/s

Number of attendees

Preferred date

AM/PM
We will then get back to you as soon as we possibly can to discuss availability and your requirements.
A £100 deposit is requested in order to book your birthday party with Clip 'n Climb Leeds.
Cancellations & Refund Policy for Birthday Parties:
Your £100 deposit will be non-refundable if your party is cancelled within 35 days of your booking date.
You are required to contact us 7 days before your party date to confirm your final birthday party numbers; this will allow us to calculate your final amount payable for the day of the birthday party.
Whilst we can appreciate that some children may drop out last minute (e.g. due to sickness), unfortunately we will not be able to refund for these individuals within the 7-day period once you have confirmed your final birthday party numbers.
Our minimum number for a birthday party is 10 so your final amount payable would always be based from the minimum of 10 or more despite last minutes cancellations from individuals within the Birthday Party.
Please email hello.leeds@clipnclimb.co.uk for all birthday party cancellations.